Belize
Did you know that Belize was actually a former British colony until 1973 and was called "British Honduras?" The country was also Britain's last colony on the American mainland. It remained under British control until 1981 before becoming a member of the Commonwealth.
The country is known for its intertwining cultures from the Caribbean, Central America, and the people indigenous to Belize. The country's capital city also changed in 1961 after the former capital, Belize city was hit by a hurricane. The new capital is called Belmopan.
While you might have heard that the crime in Belize is pretty high, most people don't experience too many problems by staying in the more touristy areas. You can find these tourist attractions on websites like Responsible Travel.
Top things to do in Belize
Sometimes, you'll need to pay quite a bit for these trips, and depending on which season you're traveling in, it can get pretty crowded. Thankfully, the Belize government has put together a list of good trips that aren't too crowded or tourist trap-y:
Monkey River Village

A small village of about 200 people that's surrounded by the jungle. You can book a tour in Placencia.

El Pilar

This is one of the biggest Mayan ruins in Belize and is a must-see if you want to visit the country. You can find a tour on TripAdvisor's website.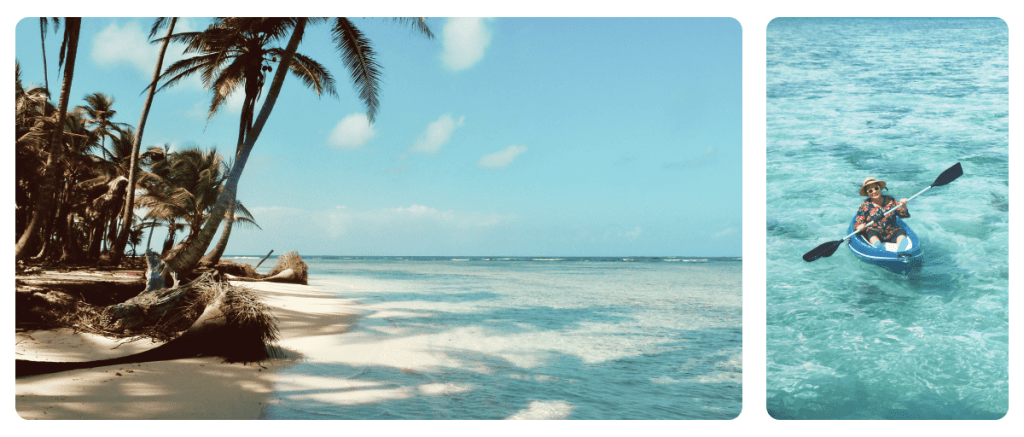 El Salvador:
El Salvador is the smallest and one of the most densely populated countries in Central America. The country is known for its various crises over the past few decades, including a civil war, a major hurricane, and an earthquake. Because of the frequent migration patterns of people from the 1980s to and from the United States, many events and cultural values are mixed between the indigenous, Spanish, and American traditions.
While crime is a big problem in the country, tourists tend to be able to escape the worst parts of it and generally have fine trips as long as they are careful. Most people tend to avoid these areas by enjoying some of El Salvador's natural wonders, ruins, and forested areas.
Top things to do in El Salvador:
La Puerta del Diablo

It's a perfect outdoor activity and is one of the favorite sites for expert mountaineering athletes and canopy enthusiasts.

Chalchuapa and its ruin El Tazumal

Its hidden treasure is the ancient Mayan ruin of the pre-classic period: El Tazumal, which is a great archaeological site that has only seldomly been explored.

Honduras:
Honduras is a notoriously dangerous country in terms of crime, so it's best to go well-prepared and potentially rent a local and trusted guide to help show you the country. Otherwise, Honduras is known for its beautiful beaches, and Roatan is considered to be one of the most beautiful in the world.

Top things to do in Honduras:
Pulhapanza Falls

You can practice River Tubing here, which is very similar to rafting, but it's characterized by being more a more humble version of the sport, as it only requires an inflated tube (or even a tire in some cases). You just need to sit on it and get carried away by the current of the river or lake.

Copán Ruins

This is one of the most fascinating tourist sites in Honduras; it's also known as the ancient capital of a Mayan kingdom that prospered between the 5th to 9th centuries. Today its ruins have been declared a World Heritage Site by UNESCO, allowing you to go back in time and appreciate its splendor through palaces, pyramids, squares, stelae, and other monuments.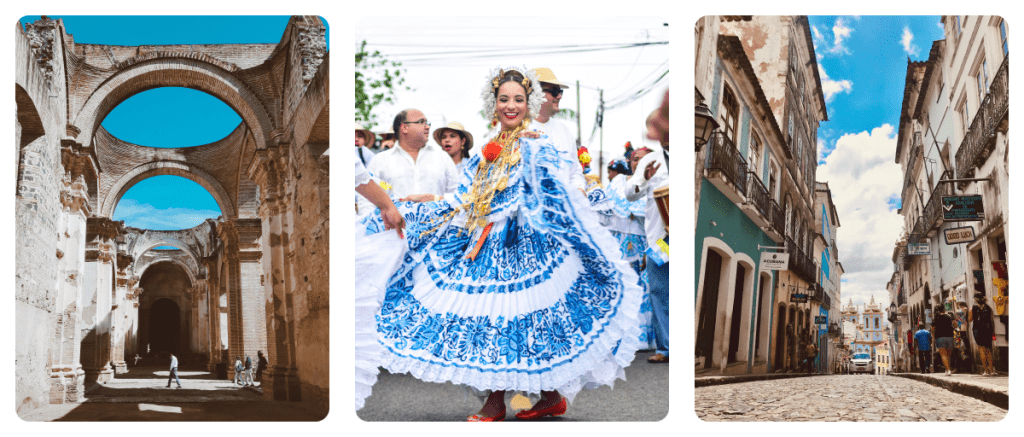 Nicaragua:
Nicaragua is the largest country in Central America and was named after the leader Nicarao of the indigenous tribe that lived around Lake Nicaragua. While most Central American countries were either colonized by the British or the Spanish, Nicaragua was colonized by both.
Many travelers describe Nicaragua as a place that's calm, slow, and relaxed. Restaurants open when they think it's time, food is made when it's ordered and not pre-prepared, so everything is fresh, and people are friendly. Many people are starting to refer to it as the second Costa Rica because of the gorgeous landscape and the cheap prices compared to its predecessor.
Top things to do in Nicaragua:
Rivas and Leon

Ideal for surfing and for those who enjoy the taste of the waves. Nicaragua is the best in Central America to get down with the tide. Not quite the surfing type? In the Pacific coastal area, tourists can find the most spectacular surf spots: Puerto Sandino, Popoyo, Colorado, Aserradores and San Diego.

Granada

One of the most fascinating tourist spots in Nicaragua. It's a city where everyone can enjoy walking among beautiful colonial and neoclassical architecture, most of which have been restored and transformed into restaurants and hotels.

Don Candido

Great variety of grilled beef cuts, certified Angus Beef that is recognized worldwide for how incredibly delicious it is. Delight yourself and your friends with exquisite European, American, and national cuts in a cozy atmosphere and a service that strives for excellence.
Costa Rica:
While Costa Rica might be more expensive than the other countries in Central America, it's due to its progressive and stable government. The country abolished its military, gave women the right to vote, and funded initiatives for its citizens, making it one of the most habitable countries in Central America throughout the 20th century while its neighboring countries were being torn apart by war and conflict.
On top of the high standard of living here, the country also boasts of some of the best beaches and forests in the world. The government has made a commitment to protect the environment in the country as well, so many locations are protected against deforestation and pollution. And, if that wasn't all, Costa Ricans still have the same relaxed vibes the rest of Central America has, which means easy travels and calm people.

Top things to do in Costa Rica:
Pacuare River:

This rafting adventure is a well-loved sport in Costa Rica, which involves "letting yourself go" with an inflatable raft down the fast-flowing rivers of the country.

Arenal Volcano and La Fortuna National Park

Once one of Costa Rica's most active volcanoes, the beautiful and majestic Arenal Volcano is truly a sight to behold.
Panama:
Because of Panama's location right above South America, many of its cultures and traditions are a mixture of the two locations. Still, because of its location and the Panama Canal, it means the country has had foreign influence since the early colonial days. The Panama Canal was built from 1904 to 1914 and is considered one of history's greatest feats of engineering.
Panama offers great cities and natural wonders for tourists to visit, along with rolling festivals throughout the year, which make any trip perfectly timed. There are also busses to Costa Rica if you'd like to see the countryside on your way to your next destination (just note that you cannot reach Colombia by bus since there is a dangerous jungle between the two countries).
Top things to do in Panama:
Zipline Gamboa

Enjoy a sweeping view of the Panama Canal and the Chagres River.

Panama viejo

Today, what was the first Spanish city on the Pacific is a mythical place, full of culture, ancient ruins, and interesting sites to explore.

Tomillo Panama: a restaurant that stands out for its casual and romantic atmosphere, with a terrace that evokes the slow times and is undoubtedly accompanied by the best dining experience in the city.
Did you know that some private health insurance has worldwide coverage, including repatriation in case of a serious accident?

Check it out