The public health insurance system in Germany is world-renowned, and for this reason – as well as certain eligibility factors explained below – over 90% of German residents avail of it. It's the service that will see you through everything from minor to major medical concerns.
In this blog post, our insurance experts have outlined the most important elements you need to know about this collectively-financed system and how to sign up for it.
For further information, consult Feather or our blog for our take on "Honest, Simple Insurance."
Who pays for public health insurance in Germany?
It's provided by not-for-profit public health funds (Krankenkassen) and regulated by the government's Federal Ministry of Health (Bundesministerium für Gesundheit). There are almost 100 providers of public health insurance in Germany, and here at Feather, we have partnerships with the most reputable providers – providers such as Techniker Krankenkasse (TK), BARMER, DAK, and AOK.
Where do public health funds come from? There's a contribution required of all insured people. A contribution that amounts to 14.6% of a salaried person's annual pre-tax salary, and it's split evenly between you and your employer at a rate of 7.3% each. If you're self-employed or a freelancer, then you're responsible for the full contribution, which amounts to around 18%.
This contribution includes social and long-term care contributions (explained further here),
In this way, public health insurance can be seen as a collaboration between the Krankenkassen, your employer, and German residents.
What's included in public health insurance in Germany?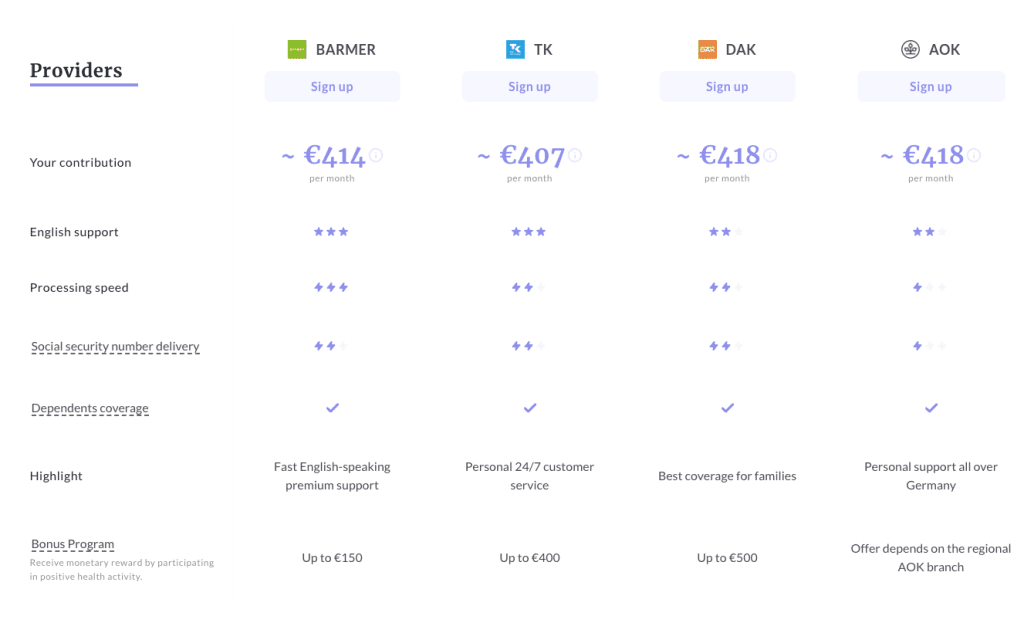 Public health insurance in Germany is a service that provides comprehensive care for its insurees. There are limitations, but here's a summary of what's included:
| | |
| --- | --- |
| General and specialist doctor's visits | 100% |
| Medication | 90% |
| General vaccinations | 100% |
| Dental check-ups | 1-2 per year |
| Preventive treatments | 100% |
| Mental-health therapy | 100% |
| General pregnancy cover | 100% |
| Pre- and postnatal midwifery assistance | 100% |
| Hospital room and board (shared) | 100% |
Furthermore, chronic illnesses and pre-existing conditions are included under public health insurance. In most cases, all ongoing medication schedules or treatments are covered. However, certain medications and specific treatments might not be covered and may require a copay.
Contributing to a statutory health insurance scheme also automatically qualifies you for sickness benefit (Krankengeld) and maternity benefit (Mutterschaftsgeld).
For a comprehensive overview of what public health insurance entitles you to, please see here. And for in-depth information on the ins-and-outs of public health insurance – otherwise known as statutory insurance – please see here.
For more details on each provider, checkout their respective pages:
What's not included in public health insurance in Germany?
There are certain instances where public health insurance may not meet your needs, and you may be required to pay out-of-pocket:
| | |
| --- | --- |
| Dental cleanings | Up to €50 per year but excluded by certain providers |
| Dental treatments | Basic treatments only |
| Breast cancer screening | Only one per year for people over 30 years of age |
| Natural health treatments | 0% |
| Vision aids (glasses/contact lenses) | 0% |
| Worldwide and holiday travel cover | 0% |
For a comprehensive overview of what's not covered by public health insurance, please see here. For an overview of public health insurance bonus programs, please see here. If you feel that private health insurance may be the better option for your personal circumstances, please see here.
What documents do I need for public health insurance in Germany?
As a salaried person, you are not required to supply any documentation – your employer will take care of this for you.
As a self-employed person or freelancer, you must submit documents declaring your annual income.
As a student, an acceptance letter from an accredited German university will suffice.
How do I sign-up for public health insurance in Germany?
When considering public health insurance, the first thing to do is to establish your eligibility. You can do this in a few ways: either by using our intuitive recommendation tool or by consulting our blog.
If you're eligible for public health insurance, one of two categories will apply to you: some people are pflichtversichert (mandatorily insured) and some are freiwillig versichert (voluntarily insured). Our comprehensive FAQ outlines everything you need to know, however, if you would rather speak to an insurance expert today, please get in touch.
How do I get proof of public health insurance in Germany?
Once your application has been approved and processed, you will receive confirmation – digitally, via post, or both – from Feather and your chosen insurance provider. As further confirmation of your legally insured status, you will receive your health insurance card.
All about you, for you. Insurance is one of the most personal choices you can make and at Feather, we present plans with coverage that fit your lifestyle. We know that making your way through the necessary information can be daunting, so we've created tools to simplify this process:
We do the work
This intuitive tool will help you find your recommendation for a monthly price and provider today.
It's free
Our partnerships with public health insurance-providers mean you can avail of our services without charge.
100% digital
The entire process is paper-free and conducted online. This means it's simpler, quicker, and perfect for those new to Germany who may not have found their permanent base yet.
English-first
As expats, we've all been there so we know how daunting it can be to go through the insurance process in German. That's why it's carried out entirely in English.
Insurance involves more than health
At Feather, we take the holistic approach to insurance as we know it doesn't begin and end with health coverage. Life happens and while you're living it, we want to make sure you have total peace of mind. For that reason, we also provide additional Dental coverage, Personal Liability plans, Household Contents insurance, and more.
How can we help you today? To talk to someone now, simply send us a message or book a call with one of our insurance experts at a time that works best for you.
Still making up your mind? If so, you can read more from Feather on our blog or in our FAQ section.